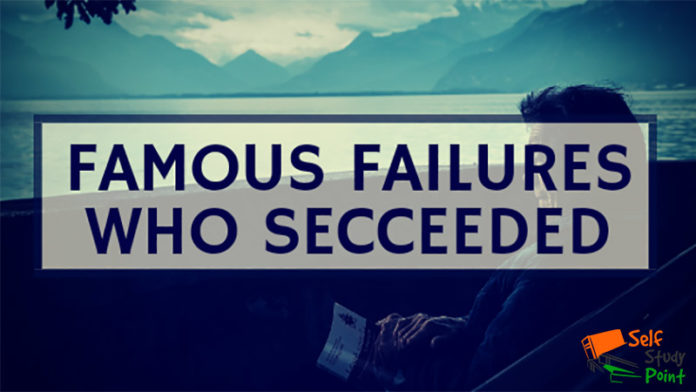 You might encounter failure on the path to success.
Every time you fall, get up, dust yourself and keep going.
Somewhere down that winding Road lies your destiny.
I have missed more than 9,000 shots in my career. I have lost almost 300 games. On 26 occasions I have been entrusted to take the game-winning shot, and I missed. I have failed over and over again in my life. And that is why I succeed.
-Micheal Jordan
---
What better example can be there be? An average student, Gandhiji passed his matriculation exam with difficulty. After studying law, he failed at establishing his practice in Bombay and was turned down for a part-time job as a high school teacher.
MAHATMA GANDHI
---
After Elvis Presley sang at the Grand Ole Opry, the oldest continuous radio programme in the United States, in 1954, he was told to stick to his day job of driving trucks.
ELVIS PRESLEY
---
Rabindranath Tagore was educated at home. At seventeen, he was sent to England for formal schooling, but he dropped out and did not finish his studies.
RABINDRANATH TAGORE
---
Franklin D. Roosevelt was paralysed by polio at the age of 39. He went on to be elected President of the United States four times.
FRANKLIN D. ROOSEVELT
---
Bill Gates, founder and chairman of Microsoft, was a Harvard University dropout. The most ironic part is that he started a software company (that was soon to become Microsoft) by purchasing the software technology from someone for only US $50 back then.
BILL GATES
---
When Albert Einstein was young, his parents thought he was mentally challenged. His grades in school were so poor that a teacher asked him to quit, saying, "Einstein, you will never amount to anything!" Einstein incidentally failed the entrance to the Swiss Polytechnic Institute.
ALBERT EINSTEIN
---
Abraham Lincoln received no more than 5 years of formal education throughout his lifetime. When he grew up, he joined politics and had 12 major failures before he was elected the 16th President of the United States of America.
ABRAHAM LINCOLN
---
Steven Spielberg dropped out of the junior high school. He was persuaded to come back and was placed in a learning-disabled class. He only lasted a month and then dropped out of school forever.
STEVEN SPIELBERG
---
Beethoven's music teacher once commented: As a composer, he is hopeless. Beethoven went on to become one of the greatest composers, composing some of his best pieces when he was completed deaf.
LUDWIG VAN BEETHOVEN
---
Soichiro Honda was turned down by Toyota Motor Corporation during a job interview for the post of engineer after World War II. He continued to be jobless until his neighbours starting buying his homemade scooters. Subsequently, he set out on his own to start his own company Honda, the world's largest motorcycle manufacturer.
SOICHIRO HONDA
---
Marilyn Monroe was dropped by 20th Century-Fox, in 1947, one year into her contract, because her producer thought she was not attractive enough and could not act.
MARILYN MONROE
---
Amitabh Bachchan applied for an announcer's job with All India Radio before entering the film industry but was rejected because his voice was deemed unsuitable.
AMITABH BACHCHAN
---
What do the following have in common?
Leonardo da Vinci, Pablo Picasso, Rabindranath Tagore, Thomas Edison, Alexander Graham Bell, Tom Cruise, Richard Branson, Walt Disney, Winston Churchill, Agatha Christie, John Lennon, Muhammad Ali and Abhishek Bachchan. Apart from being famous and great at what they did, all of them suffered from Dyslexia in their younger days. It is a learning disorder in which a person has difficulty with reading and spelling.