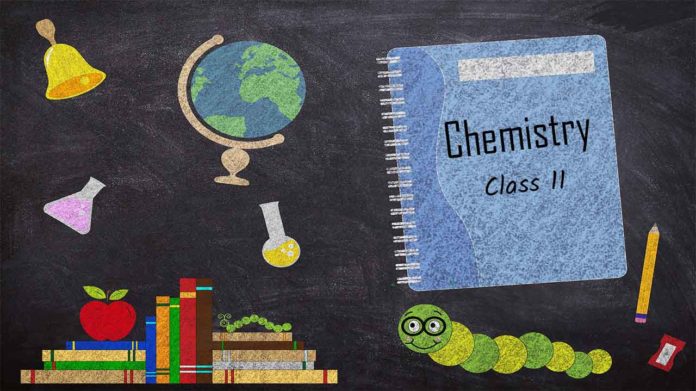 Electronic displacements in covalent bonds occurs due to the presence of an atom or group of different electronegativity or under the influence of some outside attaching group.
These lead to a number of effects which are as follows:
Inductive effect
Electromeric effect
Resonance or Mesomeric effect
Hyperconjugation effect.
Inductive Effect
It involves c electron. The electrons which form a covalent bond are seldom shared equally between the two atoms. Due to different electronegatively electrons are displaced towards the more electronegative atom. This introduces a certain degree of polarity in the bond.
The more electronegative atom acquires a small negative charge (δ–). The less electronegative atom acquires a small positive charge (δ+).
Consider the carbon-chlorine bond
As chlorine is more electronegative, it will become negatively charged with respect to the carbon atom.
Structure I: indicates the relative charges on the two atoms.
Structure II: indicates the direction in which the electrons are drawn.
Atoms or groups which lose electrons towards a carbon atom are said to have a +1 effect. Those atoms or groups which draw electrons away from a carbon atom are said to have a -I Effect.
Some common atoms or group which cause +I or -I effects are shown below:
– I Effect Groups (Electrons-attracting)
NO2, F, Cl, Br, I, OH, C6H5–
+ I Effect Groups (Electron-releasing)
(CH3)3 C-, CH3–
An inductive effect is not confined to the polarization of one bond.

The inductive effect of C3 upon C2 is significantly less than the effect of the chlorine atom on C.
Methods of Purification of organic Compounds:
Sublimation:
This method is used to separate the sublimable compounds from non sublimable compounds.
Crystallisation:
This method is based on the difference in the solubilities of compound and impurities in a suitable solvent. The impure compound is dissolved in solvent at heated at higher temp. on cooling the hot and conc solution pure compounds crystallizes out.
Distillation:
This method is used to separate volatile liquids from non-volatile liquids and liquids having sufficient difference in their boiling points.
Fractional distillation:
If the boiling points of two liquids is not much, they are separated by this method.
Distillation under reduced pressure:
This method is used to purify liquids having high boiling points and decomposes at or below their boiling points.
Steam distillation:
This method is used to separate substances which are steam volatile and are immiscible with water.
Differential Extraction:
When an organic compound is present in an aqueous medium it is separated by shaking it with organic solvent in which it is more soluble than in water. The aqueous solution is mixed with organic solvent in a separating funnel and shaken for sometimes and then allowed to stand for some time. When organic solvent and water form two separate layers the lower layer is run out by opening the tap of funnel and organic layer is separated. the process is repeated several times and pure organic compound is separated.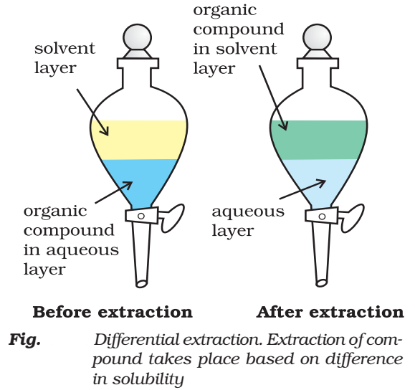 Chromatography:
This technique is used to separate mixtures in to their components, purify the compounds and test the purity of compounds.
We are sorry that this post was not useful for you!
Let us improve this post!
Tell us how we can improve this post? Please mention your Email so that we can contact you for better feedback.